Continue here...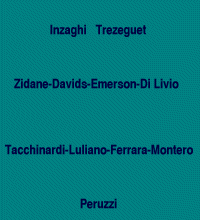 I still lost a few games I shouldn't have, but was lying in top spot & qualified for the european cup quater finals where I drew 1-1 with Man Utd in England, and won 4-1 in the return. I did Monaco in the semi's and lost to Real Madrid in the final..Ah well. I lost in the quater finals of the Coppa Italia to Milan, who won the final against Bologna. The large amounts of yellow carded suspensions & injuries to players took their toll on my team, where I lost 3 & drew 2 in the next 5 games, slipping to 3rd behind Inter & Fiorentina. I was even with Fiorentina on pts, but goal diff was worse, and 4 behind Inter. There were 4 matches left inlcuding Inter at home, Roma away, Bologna home & Parma home. I beat Inter 3-1 to be 1 point behind. I lost to Roma, but Inter lost at home to Cagliari, so no harm done. Fiorentina lost 2 in a row to Milan & Sampdoria, so they were out. All I had to do was beat Bologna & Parma, and hope Inter drew or lost. I beat Bologna 1-0 and Parma 3-2. Inter lost to Bari & drew with Milan.
I had won the league...just. Ronaldo won top scorer, and everything else, while I won coach of the year, and Trezeguet won young player of the year..Compared to the other mighty teams in Serie A, I spend nothing, yet got the results, using my own team, not buying. The shock for me was seeing mighty Lazio, with Salas, Vieri, Couto etc finish 11th.
So there you go, my fun for a season. I usually play for 3-4 seasons, then restart the whole thing, to keep it interesting. Hope you enjoyed that guys.
Happy CM'ering!